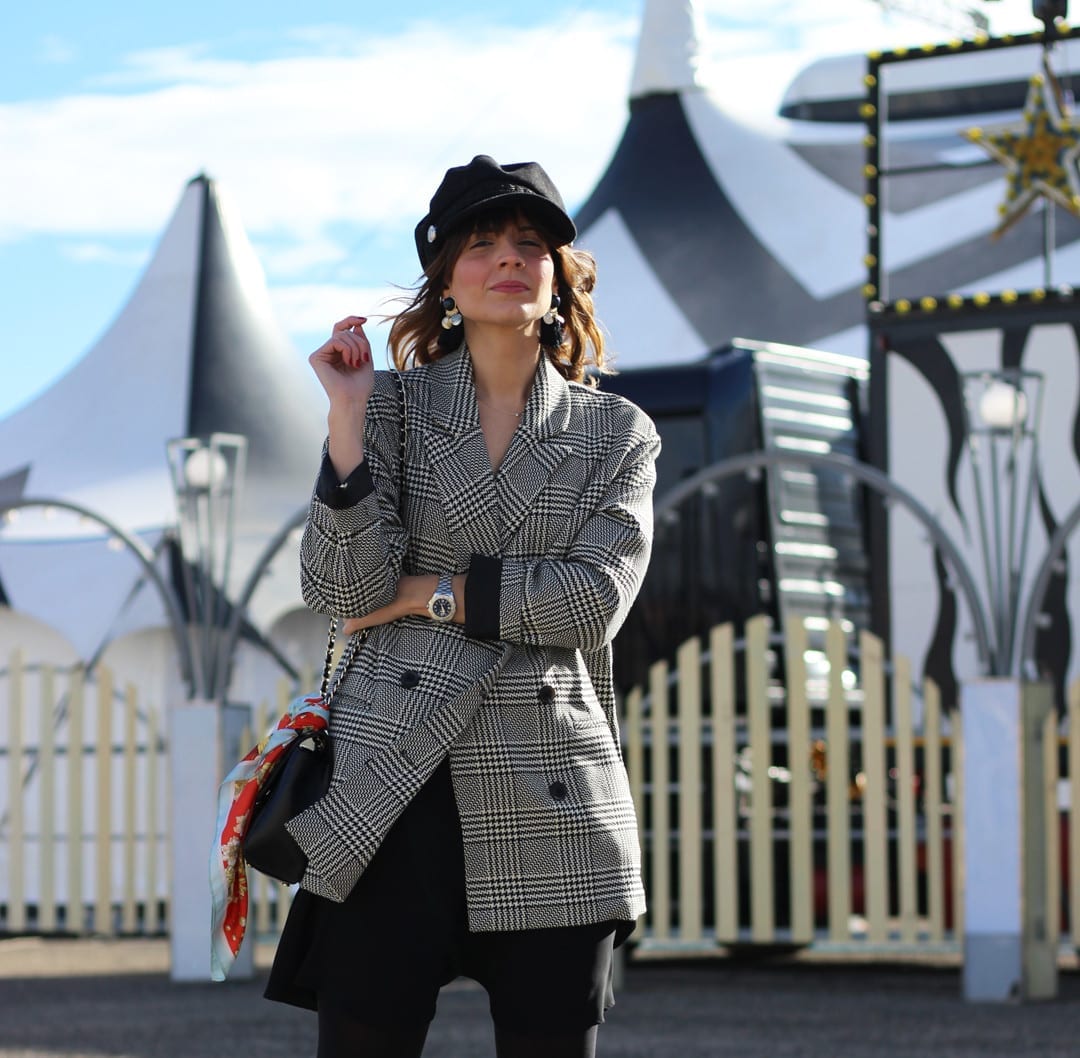 Baker boy cap, sailor cap, Captain cap… There are a lot of ways to call this kind of hat, but to me is, and it will always be, the classic sailor hat. Obiously, now there are made it in differents fabrics: velvet, suede, wool… and  they're more beautiful than old sailor hats from 80's. Do you remember those sailor hats in blue and white? They had gold buttons and chains!! OMG!!!
Now we wear baker boy hats more stilish and they fit with anytime of the year; but I think Zara will launch its own summer baker boy cap… And I'm sorry, but I remember you that one of the last Tommy Hilfiger's collections is too navy… I'm terrified! hahaha…
Baker boy cap with oversize blazer
In these photos I wear a black dress from Mango which I bought last year (you can see how I wear it in a different way here); oversize blazer from Zara, and black tights from Calzedonia!! Great! An oufit wearing tights!
Anyway, I wanted to wear for the first time this pair of red shoes from Nicoletto Zapatería. I received them on Christmas and I must say that I love how they go with black tights. I thought that It was the moment to wear them first time. ;)
I know that the baker boy cap doesn't fit me. It's too big, but my head is very small.  I'm used to buying my hats in Zara Kids hahahaa… So, if you know any brand of mini hats, please tell me ;) I need one that fits me!!
By the way, do you like circus shows? When I was a child I loved it, and I still love it, but I can't stand he magic shows. That kind of games irritates me.
Well, I hope you love the outfit; as always, you can find the links above.
Love.
Mango dress (very similar), Nicoletto Zapatería shoes, tights Calzedonia, Uterque bag (similar), H&M bandana (similar), Baker boy cap Text Carrefour (similar), H&M earings (similar), Zara blazer (similar)